Centrally located in the beautiful Coachella Valley of Southern California.  The Guild shall be a non profit organization established to promote appreciation of quilting, to share and to uphold the heritage of a timeless folk art, and to further the education and skill levels of the members of the guild.
Watch for the 2022 Opportunity Quilt to be revealed January 2022.  
There will be no 2021 Opportunity quilt because of the pandemic.  You can view past Opportunity Quilts by clicking here.
Second Saturday of the month
Check out our Zoom meetings!
Meeting Times:
10AM to Noon
Doors open at 9:30AM
Membership:  2021 membership dues: $25.00

Renew on line by clicking here.
Guests are welcome at all meetings:  $10.00 guest fee
Location:
On Zoom until further notice! Join us!
University of California, Riverside
Palm Desert Campus
Auditorium Building
75080 Frank Sinatra Drive
Palm Desert, CA  92211
For Directions Click Here
---
Like us on Facebook.  Check out the guild's Facebook page and know what is happening.  Click here.
Or check us out on Instagram.
---
November Meeting -- Saturday, Nov. 13, 2021
Suzi Parron
Barn Quilt Movement
Meeting begins at 10:00am
Program begins at 11:00am
Suzi Parron discovered barn quilts on a trip through Kentucky in 2008.  She documented over one thousand barn quilts in the process of writing her 2012 book, "Barn Quilts and the American Quilt Trail Movement."  For her second book, "Following the Barn Quilt Trail," she left her job as a high school teacher and traveled by RV across the country, visiting farms from Georgia to California and even Canada.
In her talk, Suzi will take us on a journey along the quilt trail, beginning with the very first barn quilt, which stemmed from Donna Sue Groves and her wish to honor her mother's quilting art. Suzi's hour-long presentation features over one hundred stunning photographs of barn quilts, some of which rival cloth quilts in their intricacy. You will hear stories of some of the individuals who have painted quilt blocks to honor loved ones or their local culture, along with a few humorous anecdotes.
The lecture will take us from coast to coast, but there will be a section devoted to the beautiful quilt trails of California!
The program is both informative and entertaining, as Suzi explores the way in which our quilting heritage takes on new meaning as this movement continues to expand 
Guest Fee -- November Meeting
Available
Ships within 1-3 days
---
November Class -- Sunday, Nov. 14, 2021
Suzi Parron
Barn Quilt Painting
This class will be virtual. See below for the timetable to register for the class since it involves selecting and picking up of material. Once you register, you will be sent information on pattern choice and color choice.
Time: 9:00am -- 2:00pm
$5 Registration Fee and $45 paid to the instructor -- includes class and supplies
You will begin with a pre-printed board and go through each step -- drafting, taping, and painting with careful attention to detail. Suzi has plenty of patterns already drafted for you.
The finished product will be two-by-two feet and is the perfect size for mounting on a small building.  
Most supplies are provided but you will need:
-- Painter's tape -- Green "Frog" brand is BY FAR the best, but blue Scotch tape will do.  Narrower tape (about 1 inch) is preferred
-- Yardstick or 24 inch ruler
-- pencil
-- Blow dryer with extension cord for every 3-4 people
NOTE:  The painting is not real messy but there is some chance you will get paint on your clothing.  Dress accordingly or bring an apron!
Class Registration and Material Pick Up Schedule
Sunday, Oct. 31         Deadline to Register for Class
Sunday, Nov. 7           Deadline to Notify Programs                              
                                     Chair of chosen pattern and 
                                     colors. (registered participants will
                                                receive details via email on pattern
                                                choices and paint colors.)
Thursday, Nov. 11      Supply Pick up @ Monica's (AM 
                                                 and PM, final times TBD) Please bring
                                                 $45 cash to pay Susi.
Sunday, Nov. 14          Class
Class registration -- November Class -- Barn Quilt Painting
Available
Ships within 1-3 days
---
Renew or Join for 2022 

by Dec. 1 and You Could Win This

!
If you renew your membership or join for 2022 by December 1, you will automatically be entered in a drawing to win a fabulous gift basket valued at $200! The gift basket includes:
New Release Book, "Strip Your Stash" by Gudrun Erla
Kaffe Fassett 8 pc. Fat Quarter Bundle
Oh Sew Organized Stash 'n Store
Karen Kay Buckley's Perfect Scissors (Small Size)
1 pkg. of Schmetz Topstitch Needles
1 pkg. of Schmetz Universal Needles
1 Fabric Panel of Colorful Succulents
4-3/8 yards of Greige Print Fabric
1 $25 Gift Certificate to Ralph's Sewing & Vacuum
1 $25 Gift Certificate to The Quilter's Faire
Click here to download the membership form and mail it in with your payment, or pay via PayPal. Do it now! The prize winner will be announced in December.
---
JOSLYN SENIOR CENTER, PALM DESERT
Go to the Sew What Page for more information by clicking here.
Watch your emails for more information. Here is a link to the SIGN UP page.
---
This exhibit is all about sharing quilts created by Southern California quiltmakers. Quilts of all styles and techniques are welcome so long as they fit the requirements below.
 Entry requirements are as follows (please read carefully):
*  The quilt must have been finished in 2020/2021 and be in good condition.
*  The size constraint is that it must not be larger than 240" overall and no smaller than 48" overall.
*  Embellishments must not protrude more than ½" from the surface of the quilt.*
*  The quilt must be made of fabric and quilted either by hand, or machine, or both.
*  It must be constructed of three layers and bound or closed around all quilt edges.
*  Entrant must be a current member of an SCCQG Member Guild or an Affiliate member.
*  Mailed entry forms must include a color photo of the quilt with the title of quilt and Entrant's name clearly listed on the back of the photo. E-mailed entries must include a digital photo named with the Entrant's first initial and last name. For example: WSmith.jpeg
Timetable
November 1, 2021
Mailed entry form, pictures, and a self-addressed stamped envelope must be received no later than November 1, 2020. (Email liv4quilts@aol.com on November 2 if you want to check receipt.)
December 1, 2021
Notification letters will be mailed by this date. Accepted entries will receive instructions for quilt shipment. Entrants will be responsible for all shipping and insurance costs. Details regarding required sleeve and label indications will also be included.
December 30, 2021 – January 13, 2022
Accepted quilts must be received by the SCCQG Road2CA Liaison (Olivia Carnahan) for exhibition.
January 16-22, 2022
Quilts will be displayed as part of the SCCQG"So Cal Quilts"Special Exhibit at Road to California, Ontario Convention Center, Ontario, California.
January 22 – February 5, 2022
Quilts will be returned to Entrants according to prior arrangements.
Questions via email to Liv4quilts@aol.com (Olivia Carnahan)
SCCQG and Road reserve the right to reject quilts not suitable for hanging.
Click here for entry form.
---
This fun project lets you use your imagination to it's fullest.  These are designed to be "Funky Faces" in any style you want.  Make them as zany as you desire.  They can represent a real person or be one of total fantasy.  You can include fabric or objects that have a relationship to the person or just make it as whacky as you want.  This is also a great way to use up those scraps sitting in a bag or in the plastic bin.
You don't have to make the features look realistic.  They can be wonky.  Crazy lips, noses, eyes and ears all add to the whimsy of this project.  There is no right or wrong way to make these creations.  The only requirement is to have fun!
Maximum size – A rectangle no larger than 18" x 24".  (If you make it much smaller, you'll find yourself cutting "tiny" pieces)
The easiest way to create your masterpiece is by using raw edge applique that is fused to a background.  But you can use any method you want.
Join us after the September Meeting for more information and at the Sit and Sew's on the Sunday's after our meetings for more information and to share your projects.
Click here for more information and the supply list.
---
ALL these classes will be presented virtually.  Click on the links indicated for more information and to register for the class.
Sunday, Nov. 14, 2021 -- Barn Quilt Painting -- Susi Parron 
Sunday, Jan. 9, 2022 -- Chunky Wee Bag -- Sam Hunter Click here

Sunday, Feb. 13, 2022 -- Mod Molas and Bright Blooms -- Mel Beach  Click here
Sundays, Mar. 13 & 20, 2022 -- Wild Animal Collage -- Phyllis Cullen Click here
---
Inside the Growing Movement to Share Science Through Quilting
Check out the article in Smithsonian Magazine online by clicking here.
---
---
---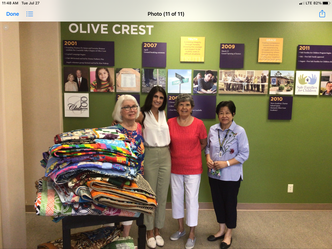 When Stitches for Kids dropped off 39 quilts at Olive Crest the other day they ended up on television on KESQ.  Olive Crest is a non-profit organization in the Coachella Valley that ensures every child has a safe and loving home.  To view the televised segment click here.  Thank you Stitches for Kids for helping to promote the art of quilting.  Keep up the wonderful work.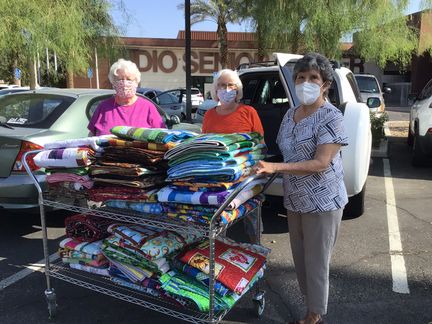 44 more quilts off to Olive Crest! -- September 2021
---
We Are Social
We now have an Instagram page!  If you seek quilting inspiration from Instagram from your favorite designers, you can now follow the guild too.   Look for our CVQG logo for the profile picture on Instagram to find us easily     Tag us on your Instagram postings by tagging @coachellavalleyquiltguild or using the hashtag #cvqg. Don't forget we also have a Facebook page. Heather Keenan is running our Instagram page and Robert Tucker continues to run our Facebook page.   
Follow us at coachellavalleyquiltguild on Instagram and Coachella Valley Quilt Guild on Facebook.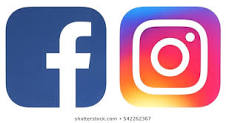 ---
If you or any guild member you know have won a prize at a recent quilt show, we would love to acknowledge your accomplishment.  Please send an email with a photo and details to info@cvquiltguild.org
---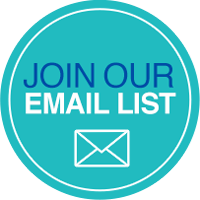 Want to receive our newsletter?  Sign up by clicking subscribe.  SUBSCRIBE